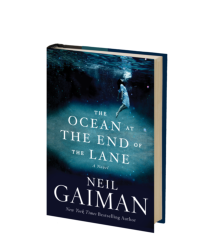 Regular readers of this website will know that I am a fan of Neil Gaiman. In fact, I class him as my favourite author, so it is quite a big deal for me to hear that his latest novel, The Ocean At The End Of The Lane is to be released on June 18th 2013!
As well as that, the publishers have released the cover, which is stunning. This is the US cover, which might change for the UK edition, but there is no word of that yet.
This is Gaiman's first adult novel in nearly 8 years. If you haven't read his most famous novel, American Gods, do it now. It's a fairly hefty tome, so you'll probably be finished just in time for his new one!
Read on for the cover...